Todos os anos aves limícolas migratórias se reproduzem na tundra do Ártico Canadense e invernam na costa oriental da América do Sul, com numerosos pontos de parada ao longo da rota de migração. Esses percursos migratórios alcançam milhares de quilômetros. Espécies como o maçarico-de-papo-vermelho Calidris canutus voam cerca de 33.000 km em sua migração anual. Milhares destes quilômetros sem paradas e sobre o oceano aberto. Ao longo desse roteiro, as aves limícolas migratórias encontram muitas ameaças – muitas delas causadas pelo homem.
Enquanto as ameaças podem variar, cada ponto de parada é um habitat crítico único na sobrevivência das aves. Assim, a sua efetiva conservação requer uma abordagem ampla para identificar e reduzir as ameaças ao longo da rota migratória. Para ser verdadeiramente efetiva, tal abordagem deve coordenar os esforços de pesquisa, manejo e conservação executados pelos diferentes grupos entre as muitas fronteiras políticas, consolidando os recursos. Somente com esforços colaborativos e abrangendo toda a rota migratória poderemos reverter o sério declínio a que submetemos muitas das nossas populações de aves limícolas migratórias.
A partir de estratégia de negócios para Initiative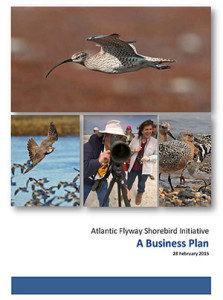 O desenvolvimento da Iniciativa Pró-aves Limícolas Migratórias na Rota Atlântica (ASFI, do inglês Atlantic Shorebird Flyway Initiative) resulta em um esforço plurianual envolvendo múltiplos parceiros ao longo de toda a rota Atlântica – do Alasca à Argentina – contra o declínio das populações. A Iniciativa surgiu para abarcar um Plano de Negócios para as aves limícolas migratórias publicado em fevereiro de 2015 e que contempla todo o ciclo de vida das aves. Esse Plano contém estratégias e ações necessárias para conservar 15 espécies de aves limícolas migratórias. Publicado o Plano de Negócios, a Iniciativa busca agora transformar-se, a partir do esforço não sistemático e altamente efetivo de um grupo dedicado de especialistas, em uma Iniciativa com uma estrutura mais formal e organizada. Essa estrutura formal busca implementar o Plano de Negócios de uma forma mais aberta e transparente, melhorar a comunicação e efetividade das ações, e fazer com que ações individuais contribuam com mudanças de efeito nas populações de aves limícolas migratórias na rota migratória Atlântica.
Sumário Executivo do Plano de Negócios para Download
---
Comitê Executivo
A Iniciativa Pró-Aves Limícolas é co-liderada pelo Diretor para Conservação de Aves da National Fish and Wildlife Foundation e pelo Chefe de escritório para Populações de Aves Migratórias, Região Nordeste da US Fish and Wildlife Service.
Eles nomearam um Comitê Executivo designado como um grupo de supervisão e facilitação para ajudar a implementar a Iniciativa Pró-Aves Limícolas e o Plano de Negócios. Um atributo crítico do Comitê Executivo é assegurar a coordenação de todos os grupos e atividades para evitar sobreposição ou duplicação de esforços. Esse grupo auxiliará na busca de novas idéias, abordagens, parcerias e poderá responder por questões ou controvérsias relacionadas à ASFI.
---
Equipe principal
---
---
Grupo de Trabalho
Diversos grupos de trabalho foram formados para auxiliar na condução da ASFI e na implementação de projetos que permitam alcançar os ambiciosos objetivos da parceria. Contate um líder de grupo para participar!
---
Nossos Parceiros