Every year shorebirds breed on the Canadian Arctic tundra and winter along the eastern shores of South America, stopping over at a number of critical migratory sites in between along the east coast of the United States. These migrations are thousands of miles round trip. Species like the Red Knot fly nearly 20,000 miles a year for it's annual migration. Thousands of those miles are non-stop over open ocean. Along the way these shorebirds face many threats – many of them caused by humans.
While the threats may vary, each site plays a critical role in shorebird survival. Therefore, effective conservation requires a wide-ranging approach to identify and reduce threats throughout the flyway. To be truly effective, such an approach must coordinate research, conservation, and management efforts of many groups across multiple political boundaries and consolidate resources. Only with a collaborative flyway-scale approach can we reverse the serious declines we are witnessing in many of our shorebird populations.
From Business Strategy to Initiative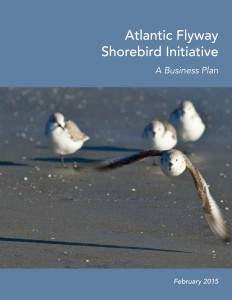 Development of the Atlantic Flyway Shorebird Initiative culminated a multi-year effort involving multiple partners along the entire Atlantic Flyway – from Alaska to Argentina – to address declines in shorebirds. The Initiative grew to embrace a full-lifecycle Atlantic Flyway Shorebird Business Plan published in February 2015. This landmark Business Plan represents the full suite of strategies and actions needed to conserve 15 Atlantic Flyway shorebirds. Upon publication of the Business Plan, the AFSI is now poised to move from an ad-hoc effort of a loosely organized and highly effective group of individuals dedicated to shorebird conservation, to an Initiative that will benefit from a more formal structure. This formal structure is intended to implement the Business Plan in a more open and transparent manner, to improve communication and effectiveness of actions, and to help facilitate individuals actions to effect change in shorebird populations in the Atlantic Flyway. Check out the entire Atlantic Flyway Shorebird Initiative Business Plan.
Download Business Plan Executive Summary
---
Executive Committee
The AFSI is co-led by the Director, Bird Conservation, National Fish and Wildlife Foundation, and the Branch Chief, Populations, Migratory Birds, Northeast Region, US Fish and Wildlife Service. They nominated an Executive Committee, which is designed to be an oversight and facilitation group to help implement the AFSI and Business Plan. A critical component of the Executive Committee is to ensure coordination of all groups and activities to eliminate overlap or duplication of efforts. This group will help generate new ideas, approaches, partners, and will respond to new issues or controversies related to AFSI.
Scott Johnston
USFWS, Division of Migratory Birds, Chief of Populations Branch
scott_johnston@fws.gov
Juliana Bosi de Almeida
Project Manager, Shorebird Program, SAVE Brasil
juliana.almeida@savebrasil.org.br
Itala Yépez
Head of Conservation, BirdLife International Americas Secretariat
itala.yepez@birdlife.org
Brad Andres
USFWS, National Coordinator, U.S. Shorebird Conservation Plan
brad_andres@fws.gov
Stephen Brown
Manomet, Vice President of Shorebird Conservation
sbrown@manomet.org
Mirta Carbajal
Fundación Inalafquen, President of the Fundación Inalafquen and the Argentine WHSRN Council
diapontia@gmail.com
Rob Clay
Director of the Executive Office of WHSRN
rclay@manomet.org
Carmen Espoz
Dean, Faculty of Sciences, Universidad Santo Tomas cespoz@santotomas.cl
Ian Davidson
National Fish & Wildlife Foundation, Bird Conservation Director
Ian.Davidson@nfwf.org
Garry Donaldson
Manager, Migratory Birds and Habitat Conservation, Canadian Wildlife Service, Atlantic Region garry.donaldson@canada.ca
Walker Golder
Director, Atlantic Flyway Coast Strategy, National Audubon
wgolder@audubon.org
Patricia Maria Gonzalez
South American Shorebird Coordinator
International Conservation Fund of Canada & Coord. Programa Humedales Fundación Inalafquen
ccanutus@gmail.com
David Mizrahi
New Jersey Audubon, Vice-president, Research and Monitoring
david.mizrahi@njaudubon.org
Danielle Paludo
ICMBio, Centro Nacional para Pesquisa e Conservação de Aves Silvestres – CEMAVE, Coord. PAN Aves Limícolas Migratórias
danielle.paludo@icmbio.gov.br
Lisa Sorenson
Executive Director, BirdsCaribbean
Lsoren@bu.edu

---
Core Team
---
---
Working Groups
Several working groups have formed to help guide AFSI and implement projects to achieve the ambitious goals of the partnership. Contact a group lead to get engaged!
---
Timeline
June 2007
The USFWS Northeast Region of Migratory Birds develops American Oystercatcher Conservation Plan in response to the Office of Management and Budget asking for focused objectives.
2007 – 2008
The Northeast Region begins discussions with NFWF on shared objectives on focusing resources.
September 2008
NFWF publishes the AMOY Business Plan; the first-ever business plan for species conservation.
2008 – 2009
NFWF and partners, fund the American Oystercatcher (AMOY) Business Plan which shows an immediate turnaround in population status.
October 2010
Participants at the Northeast Bird Conference in Plymouth, MA hatch the idea of a coordinated, ACTION-ORIENTED, FLYWAY-SCALE effort for shorebird conservation.
February 2012
First full workshop included Canadian, US, and Caribbean partners. Participants discussed threat groups, identified projects, etc
February 2013
Second full workshop. Participants broke into threat groups and began developing potential projects.
June 2013
The Atlantic Flyway Shorebird Conservation Business Strategy (Strategy) was published.
June 2013 – July 2013
A workshop was held for Caribbean partners at the Birds Caribbean meeting in Grenada.
September 2013
A workshop was held for South American partners at the Western Hemisphere Shorebird Group meeting in Colombia.
April 2014
Meeting held at NFWF headquarters to prioritize projects and develop results chains.
March 2015
National Fish & Wildlife Foundation (NFWF) adopts the Strategy as a Keystone Initiative.
March 2015
Increase direct engagement of South American and Caribbean partners to ensure Initiative planning aligns with the countries' goals and priorities. Highlights include engagement at Ramsar Convention, Birds Caribbean, Western Hemisphere Shorebird Group meeting, and individual meetings in Brazil, Argentina, and others.
Actively collaborate with the Arctic Migratory Bird Initiative to assist with implementation of the strategy. The Shorebird Initiative will assist at their planning meetings and help implementation goals.
Find new funding partners. A working group dedicated to finding new partners will be established. Targets include the InterAmerican Development Bank, World Bank, U.S Agency for International Development, and Global Environment Facility.
Develop fully functioning Working Groups. Working Groups continue to work on prioritizing actions, writing proposals for funding opportunities, and revising results chains.
Develop Executive Committee to guide the overall Initiative. Provide oversight and guidance, particularly to the Working Groups by supporting identified needs and objectives.
Develop a website dedicated to showcasing accomplishments of the Initiative. This outreach tool will track accomplishments, show priorities, and leverage funding.
Host ceremony or reception to kick off the Initiative. Provide opportunities in multiple countries to generate interest and visibility of Initiative.
Create a sustainable shorebird hunting program in the Caribbean and northern South America.Increase stakeholder engagement to move shorebird hunting towards sustainability.
---
Subscribe to our Newsletter