PRODUCTS
The Narrow Edge, by Deborah Cramer is now available in Spanish!
It is with great pleasure to let you know that Vázquez Mazzini Editores in Buenos Aires is releasing the Spanish translation of The Narrow Edge— Volando a Orillas del Mar: El viaje épico de un ave playera que une continentes.  Tito Narosky wrote a blurb for the cover, Patricia González reviewed the English edition in El Hornero, Rob Clay generously did a head to head comparison of the English and Spanish as the book was being translated.
Vázquez Mazzini Editores is distributing Volando in South America.
info@vmeditores.com.ar
vmeditores.mercadoshops.com.ar
Buteo Books in Arrington, Virginia is distributing Volando in the U.S.
Buteo Books
buteobooks.com
customerservice@buteobooks.com
The English edition received the Best Book Award from the U.S. National Academies of Science and the Rachel Carson Book Award from the Society of Environmental Journalists
Human Disturbance and Predator Management Webinars
Find a recording of Human Disturbance: Guidance and Best Practices webinar and all the documents here!
Find a recording of Guidance and Best Practices for Coordinated Predation Management to Benefit Temperate Breeding Shorebirds in the Atlantic Flyway webinar and all the documents here!
---
PLANS
Brazilian Shorebird Conservation Plan Meeting
During the first week of April, Brazil developed the second cycle of its National shorebird conservation plan: Plano de Ação Nacional para Conservação de Aves Limícolas Migratórias. Thirty specialists from federal and state agencies, protected areas, academia and NGOs, represented 12 states (70% of the Brazilian Atlantic coast) and all three WHSRN sites in the country. The 4-day workshop was led by ICMBio/CEMAVE in collaboration with SAVE Brasil and WHSRN, through the NMBCA supported project "Advancing AFSI through National Plans and New Capacity". Read more here.
Participatory Process Begins to Create National Shorebird Conservation Plan in Argentina
In March 2016, in the tourist town of Las Grutas, Argentina, key actors and conservation stakeholders came together from across the country for a workshop called "Argentina's Importance to Migratory Shorebirds on the Atlantic Flyway." The workshop addressed national opportunities and challenges in terms of projects, participation and coordination that align with the Atlantic Flyway Shorebird Initiative. One proposal that emerged from this workshop was that a national planning process would be needed to effectively conserve shorebirds and their habitats in Argentina. Read more in English and Spanish here!
---
OPPORTUNITIES
Bahamas May 2019 Live-Aboard Schooner Conservation Expedition volunteer opportunity
Sail with us! Live aboard our 75ft research schooner in the beautiful Bahamas and work with us to help protect the birds and their environment. For more information, visit 
www.Coastalbird.org
To join the conservation crew please contact Margo Zdravkovic at MargoZ@Coastalbird.org  Check out this short video for more information on our 2019 expedition and Conservian's coastal bird conservation work.
---
AVAILABLE FUNDING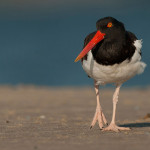 Long Island Sound Future Funds: https://www.nfwf.org/lisff/Pages/lisff-2019-rfp.aspx targeting human disturbance work for AMOY.
Note in the RFP – Reduce human disturbance of Long Island Sound beaches used by American oystercatcher and other beach nesting species by engaging communities adjacent to shorebird breeding and staging areas.
Get feedback about proposal ideas by sending an inquiry to Jessica.Lillquist@nfwf.org.
---
CALL FOR PROJECTS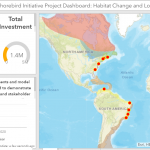 Have you been working out in the field for shorebird conservation? Please enter your projects in the really easy to use Survey 123 form so we can showcase all of the work being done throughout the flyway on our dashboard.
---
STORIES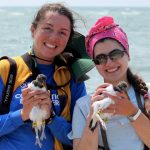 Fifteen years ago, things just weren't adding up for American oystercatcher — beyond its physical proportions, that is. The conspicuous shorebird has amallard-sized body, a crow-sized head, and a long orange bill reminiscent of a peeled carrot.
Read the story (and share!) about American Oystercatcher recovery!